NEW! at NGH Hodenhagen.com


In the list of features for sanitary installation, we have re-recorded,

Hot water-Shift-mixing valve for washing machine and dishwasher,

More and more homeowners generate their hot water with a solar system for free,

It is advisable to save the energy of the electrical heating of the hot water in the washing machine.

With a change-over mixing valve, it is possible the wash water of 20-60 ° C continuously

feed, depending on the washing program.

This not only relieves the family budget but also protects the climate and even the heating element of the machine.


The change-over mixing valve is available as flush as well as surface-mounted solution

for retrofitting.

Info at ngh-hodenhagen.com


Already since over 25 years your reliable partner.
Online ones buy without stress, without back-up, without parking lot search,from at home, from the neighbour of the office, or otherwise where.
with immediate delivery time and price information, simply home supplied.

Family owner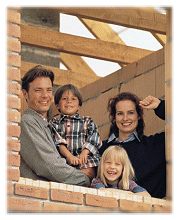 MAKING WITH SYSTEM AND WARRANTY…
… as unbeatable alternative for all, the money to save would like, but nevertheless not
on the good consultation, the clean work, which enormous quality and the high
reliability of the specialized handicraft want to do without.
We offer a system, which makes future-oriented, universally and environmentally consciously
the possibility of the selfinitiative for the customer possible.
We offer the chance to our customers to save money!
"How? ", you will ask. Completely simply: They take over a part of our work and fall back with the difficult work to us. Because we advise you in detail, give you Tipps and are during the entire expiration of building at any time for you there.
DO - it - yourself!
A topic, whose possibilities by most customers wrongly one uses.
For the building market you are as DO - it - yourself customer irregular customers. The building market attaches importance on material conversion, offers to you however in the service and maintenance range no assistance. And on special questions the answers are usually rather vague.
We as registered crafts enterprise against it settle you all work, which cannot to implement and be allowed to do you. From the complete self assembly you can determine the stage of development of their heating system.
Only we as specialized enterprise can offer this service to you. Our products are selected after careful quality criteria, so that your heating does not belong also in the future to the "old person iron". Our plants are in such a way conceived that they relieve the environment. Because by integration of newest technologies calorific value technology, solar technology, Blockheizkraftwerke and rain water use with cistern feed for you no unknown quantities will remain.
Our advice
Specials